Solar energy market in Thailand
The central and northeastern parts of Thailand have a lot of potential for solar energy, due to their high raditation levels through the year. Let's take a look at Thailand's solar energy landscape.
Thailand has some potential for solar energy, especially in the central and northeastern parts of the country, where solar radiation levels are high throughout the year. The country has numerous areas with Direct Radiation between 1,600 and 1,950 kWh/m2/year, located mainly in the northeast and central areas of Thailand. In fact, the average annual radiation is 1,875 kWh/m2/year (5.06kWh/m2/day) and reaches its maximum values during the months of April and May, when the daily radiation is 5.6-6.7 kWh/m2.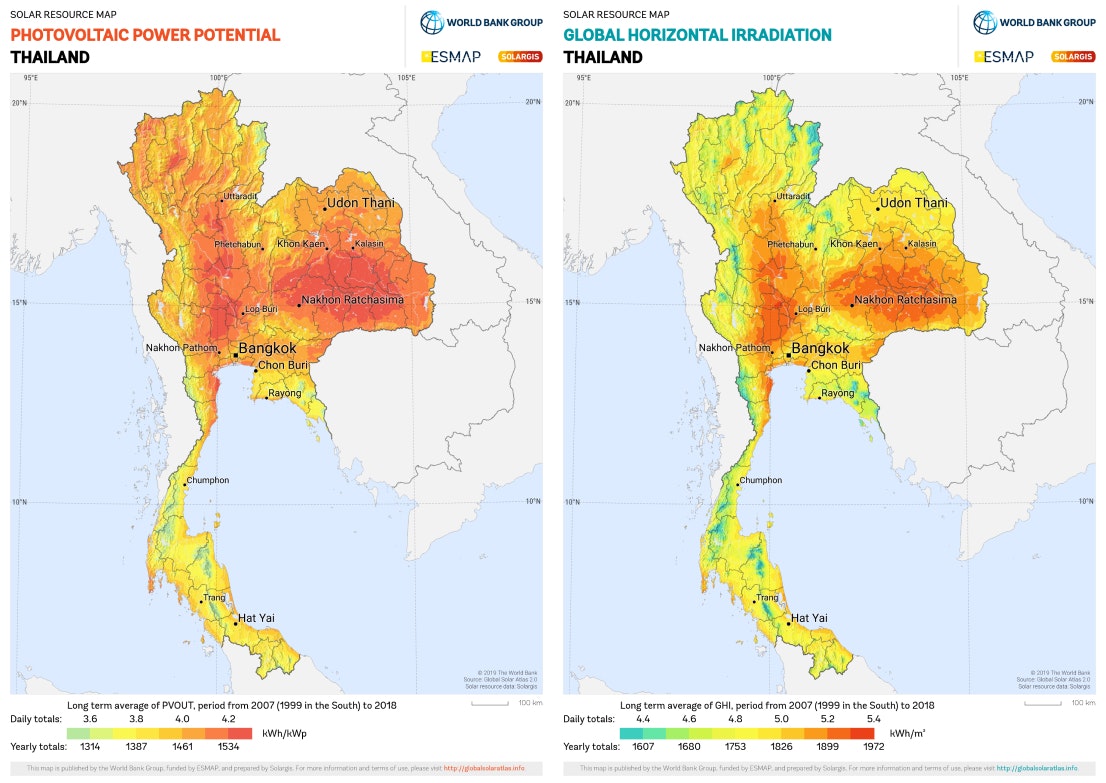 2020 The World Bank, Source: Global Solar Atlas 2.0, Solar resource data: SolarGIS.
Solar power in Thailand by the numbers
The quality of solar radiation is not sufficient to be able to have solar thermal power plants, so plans and projects focus on solar photovoltaic energy in several of its modalities.
Solar is an important part of the 2018-2037 PDP, where solar is expected to account for more than half of the total energy produced. Thailand's installed solar capacity has increased from 49 MW in 2010 to 2,983 MW in 2020 according to ERC data. Under the new plan, it aims to increase installed capacity by 2037 under the following strategies:
9,290 MW from license allocation for the construction of solar plants and the placement of solar panels on the roofs of buildings.

2,725 MW from the placement of floating solar panels on 9 dams in Thailand, which will belong to EGAT.
Liberalization measures by the Thai government
To enable these objectives, the Thai state is implementing a series of liberalizing measures in the market. These include giving private power producers the ability to sell power to the grid, which was previously restricted to private companies with a special license to do so.
In addition, Independent Power Producers (IPPs) are expected to be able to generate electricity not for sale to the grid, but to other companies and through peer-to-peer schemes for which licenses will be granted, with special emphasis on the distribution of solar energy.
Floating solar
Regarding floating panels, EGAT announced in 2019 its intention to build 16 solar farms with a combined installed capacity of 2.7 GW on 15 of its hydroelectric dams. Of all the projects, the first to go into operation was a 45 MW plant at Sirindhorn dam (Ubon Ratchathani), which was built by a consortium formed between Thai B.Grimm and Energy China. After several delays, it finally started operating in November 2021. Apart from this project, EGAT is preparing the construction of a second one, of 24 MW, at the Ubol Ratana dam (Khon Kaen).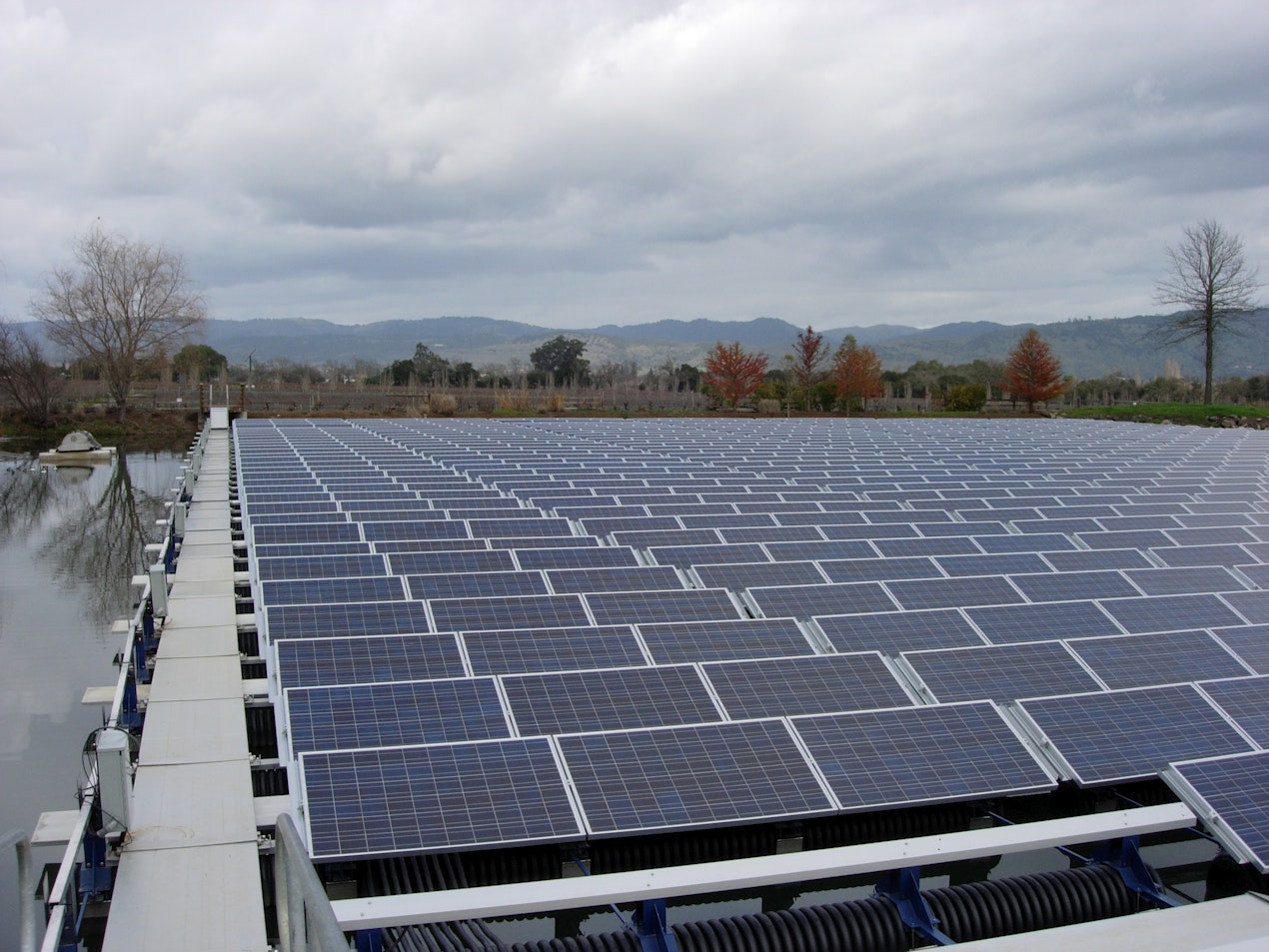 Solar production situation
In regard to production, SPPs (Small Power Producers) and VSPPs (Very Small Power Producers) dominate the solar PV Thai market, a situation that is not expected to change over the next two decades. In fact, EGAT's final target in terms of solar PV production by 2038 is only 3%.
Solar softwares
Regarding software to optimize the design and development of solar photovoltaic plants, the Thai market tends to use the PC software PVsyst to study or analyze photovoltaic projects. But, why use software with a single feature when you can have a tool that checks all the boxes?
Enter pvDesign, a software that integrates energy yield calculations into a PV system design, enabling a more cost effective development approach, and it promotes better analysis and forensic.
If you are designing a solar plant project, Rated Power's pvDesign software can help you automate the design to create the most efficient structure. Contact us today to find out more.
What you should do now
Whenever you're ready, here are 4 ways we can help you grow your solar business and reduce LCOE of your PV plants.
Get hands-on with a free pvDesign demo. If you'd like to learn the ins and outs of how top photovoltaic software can help your engineering team, go ahead and request your free demo. One of our solar experts will understand your current design and engineering workflows, and then suggest practical tips on how to speed up them though the right tool.
If you'd like to learn insights, ideas and inspiration for the low-carbon energy transition for free, go to our blog or visit our resources section, where you can download guides, templates and checklists solar successful pros use.
If you'd like to work with other passionate experts on our team, or learn more about our purpose and corporate values, then see our Careers page.
If you know another solar designer, developer or engineer who'd enjoy reading this page, share it with them via email, LinkedIn or Twitter.